We all know there are just too many goddamn places to choose from when it comes to pinpointing a great brekky in Brisbane. With so many joints posting all these amazing photos of maple-bacon waffles on Instagram, where do you even start?
Too many maple-bacon waffle options (is that even a thing?), so little time/cash, and it always just seems so much easier to fall back on to the same old comforting order of the faithful avo smash.
Imagine being able to eat out at every meal, every day. Think about all the cafes you could add the little green ticked box emoji against on your iPhone notes. Think of all the waffles you could eat.
Maple-bacon waffles. Pumpkin spice waffles. Maple-bacon waffles with fried chicken on top.
But it does. And you might not believe me, but that is actually a good thing.
You see, I lived the reality of dining out for most meals for about four and a half weeks (all the while paying in Monopoly money).
Eating my way around the United States made me realise how much I take the limit on how often I can dine out for granted.
I'm not gonna lie to you and say that that Dominique Ansel's OG, jam-pumped Cronut..
And his gooey, fudgey, flourless chocolate cookies..
Weren't two of the most elegantly gorgeous yet simple indulgences I've ever eaten in my life.
And I won't choke trying hide my laughter as I scoff down a bag of Garrett Popcorn and pretend it isn't actually the most addictive combination of cheese and caramel you could imagine.
I'm also not gonna deny the fact that I woke up with stained orange hands after eating an entire bag in one sitting, curled up in the bed of my hotel room.
And let's be real – at this point, who's gonna believe me if I said I didn't eat most of that warm, cinnamon-glazed loaf of monkey bread from Stephanie's on Newbury which just crumbled away from the heap, melted in my mouth, and was delivered by the hands of God's personal chef.
The idea of eating out every day might seem like the ultimate fantasy, and when the opportunity is in front of you it's all very easy to slip into the 'go hard or go home' mentality.
You think you can handle it, so you head into a cafe in Montreal where the entire menu is in French and order by showing the waiter a geotagged photo from Instagram of what looks like the most delicious form of artery suicide: waffles, bacon, eggs, potato. The portion size seems questionable, but the waiter tells you that what you've ordered is intended for one person. He's cute, so you trust him.
First, they make you feel like you've made a positive and refreshing decision:
"Fruit skewers!" you exclaim delightedly. "How nourishing and good for my body!"
But when this is delivered to your table shortly thereafter:
You realise these people don't pissfart around.
Your body starts to feel a little scared and confused, unable to decipher what is too little or too much or healthy or unhealthy, so you start to look for the cleanest options on the menu to relieve a bit of that increased blood pressure.
"Ahh," you sigh in relief.
"A salad. That seems safe. I'll take it!'
"Ohh, you asked for a salad?" says the waiter. "Lmao my bad, I thought you asked for a taco bowl the size of your head."
Don't get me wrong, it is SO MUCH fun to get all jacked up on as many variations of carbs as possible.
But when you finally catch your breath between sips of Bloody Mary's at 10am and mouthfuls of sweet, fluffy bite-sized cornbread muffins (all before proceeding to your main meal, which Americans call an ENTREE, by the way. Just in case your metabolism wasn't already confused enough..), you start to wonder if such a thing exists as a simple dish in this foreign land.
I humoured myself with their attempts at simple breakfasts, and my findings proved that an 'appetizer' of marshmallow fluff, peanut butter and banana on toast was to be their closest bang on the mark:
But I should have known from the beginning that the most amazing thing that I would eat throughout the entire four and a half weeks would be a simple Australian breakfast, enjoyed with an Australian-style coffee in a cafe that was owned and operated by fellow Australians.
And there it was. The highlight of my adventure eating around the United States.
Delivered by the smiling faces of Bluestone Lane in the heart of New York City was the most one of the most satisfying servings of Vegemite and avo smash that I have ever enjoyed in my entire life.
The toast was thick-cut and generous in size. The crusts were optimally crusty while the centre was soft, unlike the harsh edges of the smile that was tearing through the skin of my face (I may or may not look like The Joker now).
My only qualm would be that there was not enough Vegemite, but I have cast that minor flaw to the back of my mind because A) Vegemite is hella rare and very expensive over there, B) they were Australian and I loved them in a very biased manner, and C) really, is there ever enough Vegemite?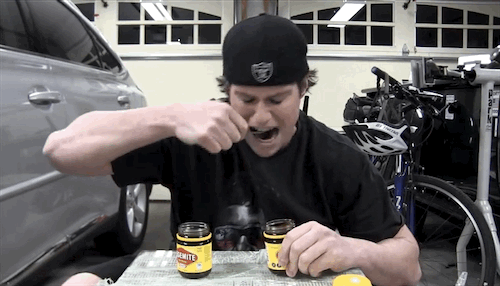 I had a great time eating out and trying new foods. It was a lot of fun (and slightly intimidating) to be able to eat whatever and wherever I wanted to and consume alcohol at any time of the day. The concept of sipping a martini whilst walking down the Vegas strip was more than a little exciting to me, as was the normality of gambling from the moment you wake up.
But in the end, it would seem as though I travelled half way across the world to eat the most fabulous foods only to discover that they were already right outside the doorstep of my own home.
Moral of the story: never underestimate or take for granted the power of a simple breakfast, such as the humble avo smash, to be the most outstanding option on a menu.
Words by Jess Morman
---
You don't need to travel to New York City for a fine Australian breakfast – subscribe to Hole In The Wall to discover little gems right outside your door!
Comments